Bohdan Lacina
(15. února 1912 Sněžné – 6. července 1971 Brno)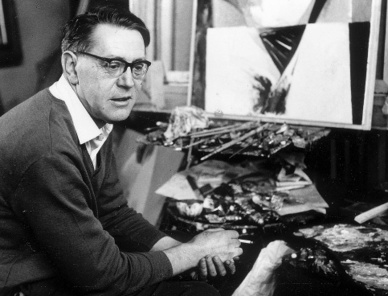 The graphic artist and painter Bohdan Lacina was an exceptional figure in Czech art of the 2nd half of the 20th century. He was born in Německé (today's Sněžné) in the Vysočina Highlands, and after graduating from the Comprehensive school in Nové Město na Moravě he studied drawing at the Brno University of Technology (1931). From here he transferred to the Faculty of Architecture at the Czech Technical University in Prague, where he studied drawing and descriptive geometry under professors Cyril Bouda and Oldřich Blažíček (1932 – 1937). While at university, he was introduced to surrealism and began devoting regular time to painting and also to developing his childhood interest in the graphic design of books.
After finishing university he moved to Brno to work as an art teacher and concentrate on his own artwork. During this period he broke loose from orthodox surrealism, and his paintings began to reveal a gradual reconnection with the landscape of his childhood – the mercilessly harsh, yet mournfully gentle Vysočina.
The 1940s saw Lacina develop a distinctive, contemplative artistic style, which address the subconscious rather than the conscious mind.  His new friendship with the poet František Halas inspired more intensive work in the area of graphic design for books. The technique he most commonly used was woodblock printing, in which he reached the standard of the very best international and Czech graphic artists.
After the Second World War, Lacina got in touch with Václav Zykmund, whom he had met during his studies in Prague, and other similarly thinking artists. Together they founded the artists' group "Ra", presenting their work in a group publication "A zatím co válka" ("And While the War", 1946) and at their first group exhibition in Brno in 1947.
After 1948 the new political regime found artists' groups undesirable, and Ra's activity came to a close. At the same time, Lacina almost gave up painting, although he continued with teaching and graphic design. But he could not lay down his brushes forever and at the end of the 1950s, after almost a decade, he returned to painting and attempted to reconnect with where he had left off. This difficult period of searching for continuity concluded with a solo exhibition in the Moravian Gallery in Brno in 1963.
At first glance, Lacina's abstract paintings captivate the viewer with their effective use of colour and powerful emotional energy. The artist's aim was to create a symbolic interpretation of the world in which he attempted to capture the core substances of objects and phenomena. In his work, he often addressed the issues of space, light and time, intertwining the organic with the inorganic and merging flora with fauna. The titles of the paintings are carefully chosen to serve as a starting point to help uncover hidden thoughts and meanings, but a deeper understanding of the message of the artwork requires a perceptive and knowledgeable viewer. Perhaps that is why Bohdan Lacina's work remains undervalued to this day.